Description
**Empower your next-generation, multi-core CPU on the go: **
Crucial DDR5 Laptop Memory has the high speed needed for the next generation of multi-core CPUs, but it's not just faster than DDR4, it's better1. Multitask seamlessly, load, analyze, edit, and render faster — all with higher frame rates, significantly less lag, and optimized power efficiency over the previous generation2. With Crucial DDR5 Laptop Memory, your laptop3 can harness blazing speeds that were once only possible with extreme performance memory4.
*5200MT/s products and 8GB 5600MT/s product will not be available until early 2023 Extreme performance right out-of-the-box
Crucial DDR5 Memory can transfer data up to 1.75x faster and deliver up to 2x more bandwidth than DDR4, resulting in shorter load times, file transfers, downloads, lag time and improved refresh rates. Performance is enhanced not just during testing, but in real-world conditions2.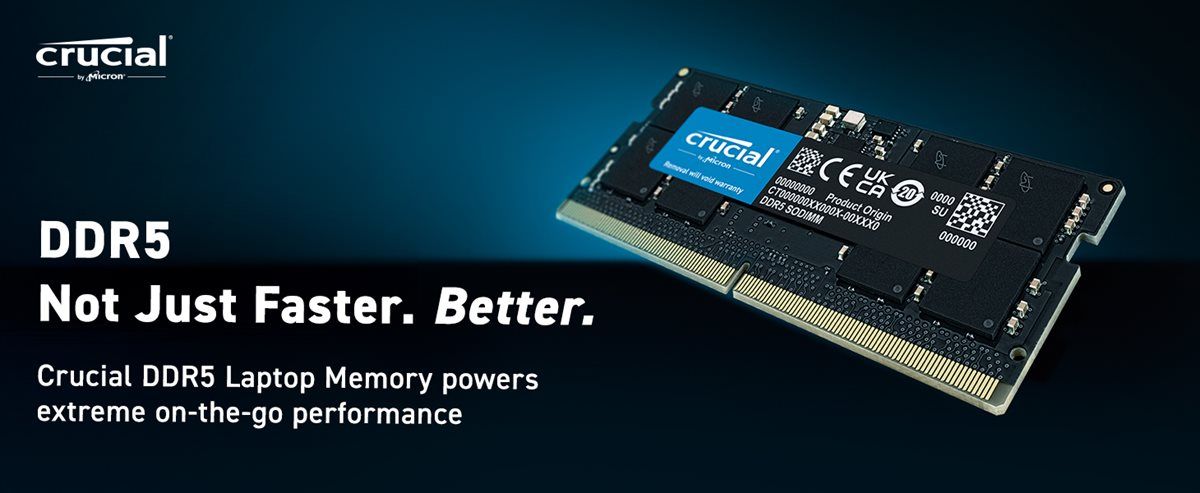 No latency downsides with DDR5 Crucial DDR5's system latency, measured in nanoseconds, is only up to 3% longer than DDR4 during testing6, meaning real-world latency performances are virtually the same. With Crucial DDR5 delivering up to 2x more bandwidth, DDR4 is still outperformed.
**Optimized power efficiency **
For improved efficiency and stability, Crucial DDR5 introduces on-module voltage regulation with a power management integrated circuit (PMIC), which was on the motherboard with older memory technologies. This results in improved signaling and cleaner power regulation for the modules (SODIMMs)7. Moreover, DDR5's on-module operating voltage is only 1.1V compared to DDR4's 1.2V.
Micron® quality – tested reliability you can trust
As the vertically integrated consumer brand of Micron, Crucial is trusted by millions for reliability, performance, and compatibility. Unlike module assemblers, our unique relationship with Micron involves a deeper level of engineering collaboration to squeeze every ounce of performance from our products without compromising reliability. With Micron's 43+ years of manufacturing excellence and Crucial's 25+ years of consumer product development, Crucial DDR5 is backed by our limited lifetime warranty5 and delivers the powerful performance you can trust. When it comes to memory, don't settle for less. DDR5 architecture includes efficiency improvements that deliver 36% more system bandwidth than DDR4, even at the same theoretical speeds of 3200MT/s, due to the high bus efficiency of DDR5 technology. Combined with lower voltage per module, this design provides superior (better) performance. Under memory-intensive workloads, DDR5 can deliver up to 2x the bandwidth, per an internal simulation of dual ranked x8 modules in client platforms. Only with a DDR5-enabled CPU and motherboard. DDR5 desktop memory is not compatible with DDR4 motherboards. DDR5 launch speeds of 4800MT/s are comparable to extreme-performance DDR4 memory speeds and are 1.5x faster than maximum standard DDR4 speeds of 3200MT/s. Limited lifetime warranty valid everywhere except Germany and France, where warranty is valid for ten years from the date of purchase. Compared to published DDR4-3200 speeds. DDR5 modules (DIMMs) introduce voltage regulation on the module through a power management integrated circuit (PMIC), which enables better power regulation and reduces the scope of DRAM power delivery network (PDN) management on the motherboard for increased efficiency.
Shipping
We take pride in providing exceptional customer service and a punctual delivery service. All orders received same day are processed same day or next day. We deliver within 1-2 working days in all Emirates in the UAE and within 2-3 working days to the Sultanate of Oman.
We provide free shipping - United Arab Emirate (UAE)
Duration: 1-2 days
Purchases above 750.00 AED - Delivery is FREE
Purchases below 750.00 AED - Delivery is 25.00 AED
The Sultanate of Oman:
Duration: 2-3 days
100.00 AED delivery charges applies.
Once the order is dispatched, the customer will get a notification and tracking number from one of our logistics partner companies:
NB: Tracking Number(s) are only provided if delivery takes at least 8 days.
Return Policy
You have 6 days hassle free return from the date of purchase and also the below terms and condition apply.
Any item(s) purchased will not be eligible for return or exchange after 6 days from the date of purchase.
Those faulty units will be considered as a service after sales terms and we will generate a service warranty tag for the same units.
Replacement or exchange will only be applicable by the vendor policy.
Shipping charges of 50.00AED is applicable on any return units per shipment.
If the customer paid via the payment gateway (online) a charges of 2.5% on the total order is applicable.