Description
LG 32″ LED Monitor 32GK850G
Introduction
There has been a growing number of high refresh rate monitors featuring VA panels. Whilst they can't keep pace with faster panel types such as TN in terms of pixel responsiveness, they touch the sweet spot for some users when it comes to their blend of image quality and responsiveness. We've reviewed a few ~32" VA models with 144Hz refresh rates and support for AMD FreeSync; specifically, the ASUS XG32VQ and AOC AG322QCX. The LG 32GK850G (32GK850G-B extended designation, owing to its black back) instead uses a flat VA panel that combines support for Nvidia G-SYNC and a 165Hz refresh rate. We take a detailed look at this model and see how it fairs in our usual testing regime.
Specifications
The monitor employs a 31.5" AU Optronics AMVA (Advanced Multi-Domain Vertical Alignment) panel with support for a 165Hz refresh rate and true 8-bit colour support (without dithering). A 5ms grey to grey response time is specified, but as usual this shouldn't be taken at face value. Some of the key 'talking points' for this monitor have been highlighted in blue below, for your reading convenience.
Screen size: 31.5 inches
Panel type: AU Optronics M315DVR01 variant AMVA (Advanced Multi-Domain Vertical Alignment) LCD
Native resolution: 2560 x 1440
Typical maximum brightness: 350 cd/m²
Colour support: 16.7 million (8-bits per subpixel without dithering)
Response time (G2G): 5ms
Refresh rate: 165Hz (variable, with G-SYNC)
Weight: 8.5kg
Contrast ratio: 'Mega' (3000:1 panel specification)
Viewing angle: 178º horizontal, 178º vertical
Power consumption: 55W typical
Backlight: WLED (White Light Emitting Diode)
Features and aesthetics
The monitor maintains a modern and smart appearance, free from obvious and (potentially) visually offensive 'gaming touches'. It uses matte black throughout, with a dual-stage bezel design. This comprises a very slender hard outer bezel as well as a slim panel border that blends in seamlessly when the monitor is switched off. Including both components, the bezel is ~9.5mm (0.37 inches) at the top and sides. The bottom bezel is thicker without as much panel border on show, ~24mm (0.94 inches) in total. The most prominent feature is the 31.5" screen, which employs a light matte anti-glare screen surface as explored shortly.
Note that the image appears recessed slightly compared to the panel border, so if you're sitting quite close to the screen or depending on viewing angle you may notice a 'shadowy border' at the extreme edges of the image. This is by no means unique to this monitor and is something quite a few models with this sort of bezel design will have. Sitting 70cm+ away and centrally you won't really notice it, but sitting closer or adjusting your head even slightly off-centre will reveal the effect. You might notice this when looking at the vertical scroll bar in an application, for example. We didn't find this annoying during normal use, but it did slightly obscure image content at the very edge (i.e. <1mm from the panel border) at times. The image shows roughly this effect (ignore the interlacing lines – they're moiré from the camera).
The OSD (On Screen Display) is controlled by a joystick on the underside of the bottom bezel, in the central region. Beside this there is a button that allows control of the 'Sphere Lighting' feature that we'll come onto shortly. The joystick has an integrated power LED, which can't be seen from a normal viewing position and is off by default although can be enabled in the OSD. If enabled, it glows red when the monitor is on and flashes red when the monitor enters a low power state. The video below runs through the OSD and the 'Sphere Lighting' feature.
From the side the screen is ~23.5mm (0.93 inches) at thinnest point, extending back further in the central region. The monitor is predominantly black plastic with a matte finish from this angle, although there are a few matte red elements on the feet at the base of the stand. Because of how these are angled, this isn't a prominent or obvious feature, especially when viewing the monitor from the front. The rather robust fully adjustable stand is visible from this position. It offers good ergonomic freedom; tilt (5° forwards, 15° backwards), swivel (20° left, 20° right), height adjustment (110mm or 4.33 inches) and pivot (90° clockwise rotation into portrait). At lowest height, the screen clears the desk surface by ~75mm (2.95 inches) with the top ~496mm (19.53 inches) above the desk surface. The total depth of the monitor and stand is 290mm (11.42 inches) with the screen quite close to the nearest points of the stand.
The rear of the monitor is mainly matte black plastic, but there are some red elements as well. The red ring that surrounds the stand attachment area is the 'Sphere Lighting' feature mentioned earlier and shown in the OSD video. The included stand attaches centrally using a quick release mechanism, with a button releasing the stand from the screen. Doing so will allow mounting to an alternative 100 x 100mm solution. The port area is located to the right of the stand attachment point, with the ports facing backwards. These are, from top left to bottom right; 2 USB 3.0 ports (with fast-charging), DP 1.2 (supports G-SYNC), USB 3.0 upstream, HDMI 1.4, 3.5mm headphone jack, service port and a DC power input (external power brick, shown below). A black plastic clip-on cable tidy that can be attached to the rear of the stand neck is also included (not shown).
The monitor will run at up to 165Hz at the native resolution via DP 1.2. G-SYNC is also supported on compatible Nvidia GPUs. HDMI is limited to 60Hz at the native resolution. Standard accessories include a DP cable, HDMI cable, USB 3.0 cable and a power cable and adaptor.
Calibration
Subpixel layout and screen surface
The images below are macro photographs taken on Notepad with ClearType disabled. The letters 'PCM' are typed out to help highlight any potential text rendering issues related to unusual subpixel structure, whilst the white space more clearly shows the actual subpixel layout alongside a rough indication of screen surface. The top image shows the 32GK850G, whilst the bottom image shows the AOC AG251FG for comparison. As explored later, this model uses a light matte anti-glare screen surface. This handles glare effectively whilst keeping the image free from obvious graininess and better preserving vibrancy than some matte surfaces. Rather than an obvious 'smeary' graininess, there was a very light 'misty' graininess in places so a smooth appearance to the image overall.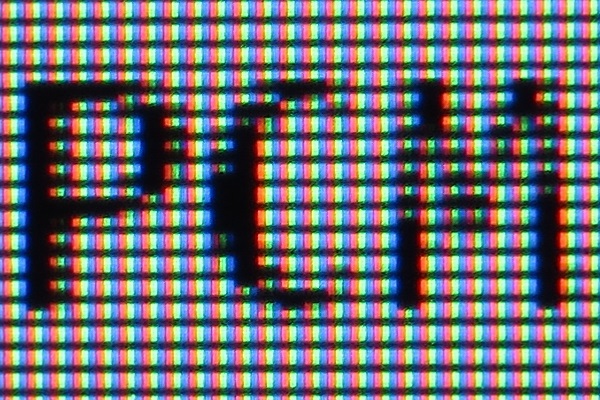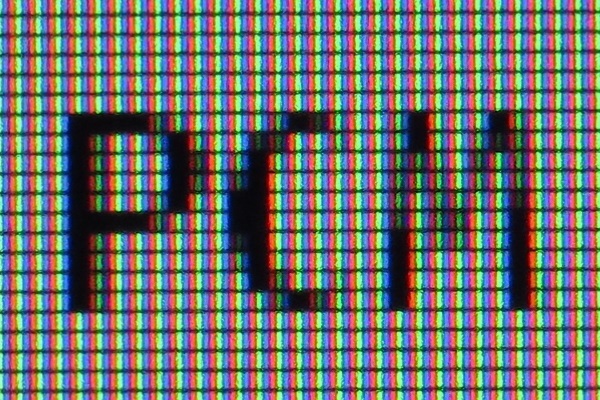 As shown above, the monitor uses the usual RGB (Red, Green and Blue) stripe subpixel layout. This is the typical layout expected by modern operating systems such as Microsoft Windows and Apple MacOS. You needn't worry about text fringing from non-standard subpixel layouts as a Mac user and don't need to run ClearType as a Windows user – although you may wish to run through the ClearType wizard and adjust according to preferences. You can see from the top image, taken from this monitor, that the subpixels are slightly squat with relatively 'thick' black spaces above and below each row. You can also see that some areas of text are shown with only half of each subpixel illuminated, with fairly distinct gaps in the middle and at the ends of letters where there is no subpixel illumination. Compare this to the bottom image, which shows a more blended appearance without the same half subpixel illumination or abrupt gaps. This subpixel arrangement is not uncommon on VA models and can cause issues with text clarity, particularly if (as in this case) the pixel density is not particularly high. Text on this model appears somewhat softer than it ideally would. It appears with a slight 'shadowy' fringe around it in places, with the fringe a lighter shade than the text itself. Most users will not take issue or even notice that text appears different to usual on this model vs. a model of similar pixel density and normal subpixel arrangement. Some users would notice and potentially find this bothersome, however.
Testing the presets
The 32GK850G features various 'Game Mode' presets; 'Gamer 1', 'Gamer 2', 'FPS 1', 'FPS 2', 'RTS' and 'Reader'. The first two presets are fully customisable, whereas the remaining presets lock off various settings such as 'Gamma', 'Color Temp' and 'Black Stabilizer'. The table below shows key readings taken using a DataColor Spyder5ELITE colorimeter alongside some general observations. The monitor was left in its 'Plug and Play' state, connected to a Windows 10 machine without additional drivers or ICC profiles specifically loaded. The screen was connected to an Nvidia GTX 1070 via DP 1.2 and was left to run for over 2 hours before observations made or readings taken. Unless otherwise stated, assume that settings were left at default but with the refresh rate set to 165Hz. The refresh rate did not affect our observations on this table or have any noticeable impact on the static image quality of the monitor, only during motion as explored later. When viewing the figures in this table, note that for most PC users '6500K' for white point and '2.2' for gamma are good targets to aim for.