Tenda A9 wifi range extender 300Mbps Wireless N Wall Plugged Range Extender
2T2R, 2.4GHz, 802.11n/g/b, Ranger Extender button, Range extender mode, with 2*3dBi External Antennas; 300 Mtr range.
Description for Tenda A9 N300 WiFi Range Extender 2 External Antennas, One Button Extension, Smart Signal LED, Universal Compatibility | A9
A9 Wireless N300 Universal Range Extender
What It Does
A9 is a wireless N300 universal range extender, specially designed to extend the exisiting WiFi coverage and improve the signal strength. With one button extension, smart signal LED, wall-mount design and universal compatibility, it is easy for users to boost wireless networking. A9 is an ideal choice for you to eliminate WiFi dead zones and optimize your networking.
Main Features
??300 Mbps 802.11n speed.
??2*3 dBi external antennas boost signal to extend WiFi coverage up to 200?.
??One button extension help to extend WiFi coverage easily.
??Smart WiFi Signal Strength LED help to choose optimum location easily.
??Compatible with main brands 802.11n standard wireless routers and WiFi DSL.
??Support SSID Hiding
Strong Signal and Wide Coverage
With 2*3dBi external antennas , A9 can provide strong singal and extend the existing WiFi coverage to 200?. Also, by optimizing the software and hardware, the anti-interference ability is improved much, so that A9 can provide stable signal and guarantee the large WiFi coverage.
Whole Coverage for Large Multi-rooms Flat
For the large multi-rooms flats, single wireless router can not provide a perfect WiFi environment and there are always WiFi dead zones at the balcony, study or bathroom and so on. It is easy to realize WiFi coverage for the whole flat by placing an A9 at the right place according to the signal LED (the LED should be GREEN), and boosting the signal to the whole flat.
Whole Coverage for Multi-floor villa
A9 can realize WiFi signal extension both horizontally and vertically. In villas, the load-bearing wall always cause serious WiFi signal loss which makes the WiFi signal weak on the other floor. By optimizing the software, hardware and antenna gain, A9's vertically signal-receive ability is 30% better than likewise products. This gurantees the whole WiFi coverage of multi-floor villa.
Other
One Button Extension
Designed with an extending button, A9 can extend the wireless router's WiFi immediately by pressing the wireless router's WPS button once, and within 2 minutes, pressing the Range Extender button. Just plug and play and it is easy to set up.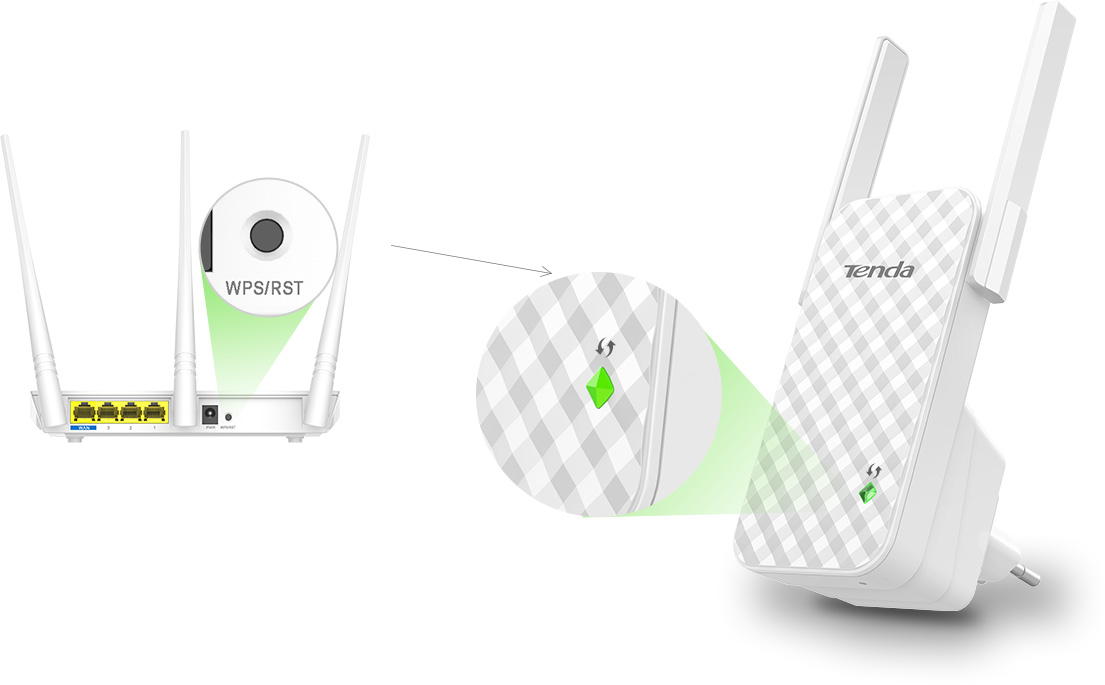 Smart Signal LED Indicator
Once connected with the existing WiFi, ?it is easy to find the best location for the extender according to the smart WiFi signal LED indicator, so that A9 can achieve the best coverage and works better.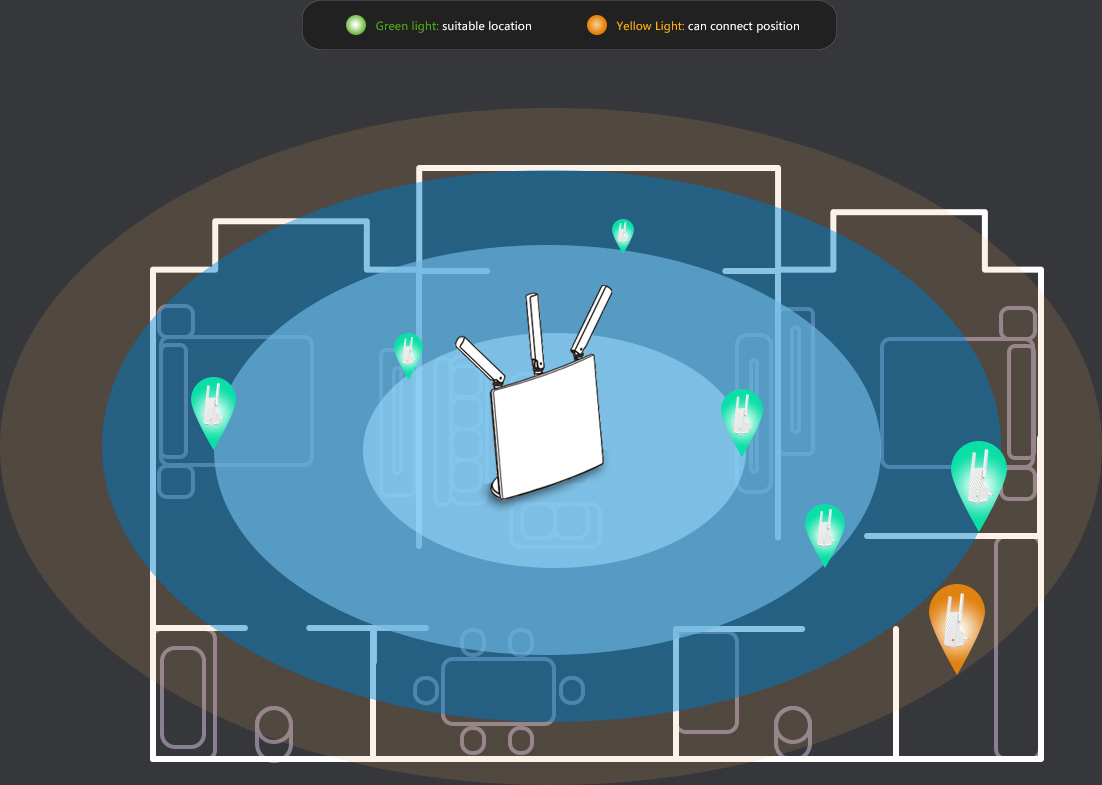 Seamless Coverage
When the client is moving, the device can re-connect to a stronger WiFi signal automatically without disconnection, which helps clients to enjoy ultra-fast WiFi anywhere in the whole house.
Universal Compatible
with All Brands Wireless Devices
Based on 802.11 n/g/n standard, A9 can work with almost all the ?b/g/n wireless routers and WiFi DSL
SPECIFICATIONS
Data Rate
802.11b : 11 Mbps
802.11g : 54 Mbps
802.11n : 300Mbps
Standard&Protocol
IEEE802.11b,IEEE 802.11g, IEEE 802.11n
Modulation
802.11b: DSSS / BPSK / QPSK / CCK
802.11g: OFDM / DSSS / BPSK / QPSK / CCK
802.11n: OFDM / DSSS / BPSK / QPSK / CCK
Frequency
2.412~2.484 GHz
Power
16dBm
Reception Sensitivity
11b: -95dBm 11g: -76dBm 11n: -73dBm
Antenna
2 *3dBi external non-detachable
Standard Version
RFC768 UDP
RFC791 IP
RFC792 ICMP
RFC793 TCP
Channel Bandwidth: 20/40MHz (default)
Working Mode
Repeater Mode (Client + AP)
Wireless Security
Encryption Mode: Mix WPA-PSK/WPA2-PSK
WPA Algorithm: TKIP
DHCP Server
Support
System Tool
Upgrade
Reset to Factory Default
Login Password
System Log
Reboot
Weight
GW 13KG (FCL)
Dimension
111 * 56 * 47.7mm
Temperature
Operating Temperature:0?C~40?C
Storage Temperature:-40~70?
Humidity
Operating Humidity:10%~90%, non-condensing
Storage Humidity:5%~90%, non-condensing