Description
Dell Thunderbolt Dock WD19TB Compatibility: Latitude 3301; Latitude 3390 2-in-1; Latitude 3400; Latitude 3490; Latitude 3500; Latitude 3590. Compatible and Recommended: Latitude 5280; Latitude 5285; Latitude 5289; Latitude 5290; Latitude 5290 2-in-1; Latitude 5300; Latitude 5300 2-in-1; Latitude 5400; Latitude 5401; Latitude 5480; Latitude 5490; Latitude 5491; Latitude 5500; Latitude 5501; Latitude 5580; Latitude 5590; Latitude 5591; Latitude 7200 2-in-1; Latitude 7280; Latitude 7285; Latitude 7300; Latitude 7380; Latitude 7389; Latitude 7390; Latitude 7390 2-in-1; Latitude 7400; Latitude 7400 2-in-1; Latitude 7480; Latitude 7490; Precision 3520; Precision 3530; Precision 3540; Precision 3541; Precision 5520; Precision 5530; Precision 5530 2-in-1; Precision 5540; Precision 7520; Precision 7530; Precision 7540; Precision 7720; Precision 7730; Precision 7740; Rugged 5420; Rugged 5424; Rugged 7424; XPS 9360; XPS 9365; XPS 9370; XPS 9380; XPS 9530; XPS 9560; XPS 9570; XPS 9575. 7520/7530/7540/7720/7730/7740 require more power than 130W, so when docked with the Dell Dock WD19 (130W/180W) or Dell Thunderbolt Dock WD19TB, the workstation power adapter needs to be plugged in for optimal operation.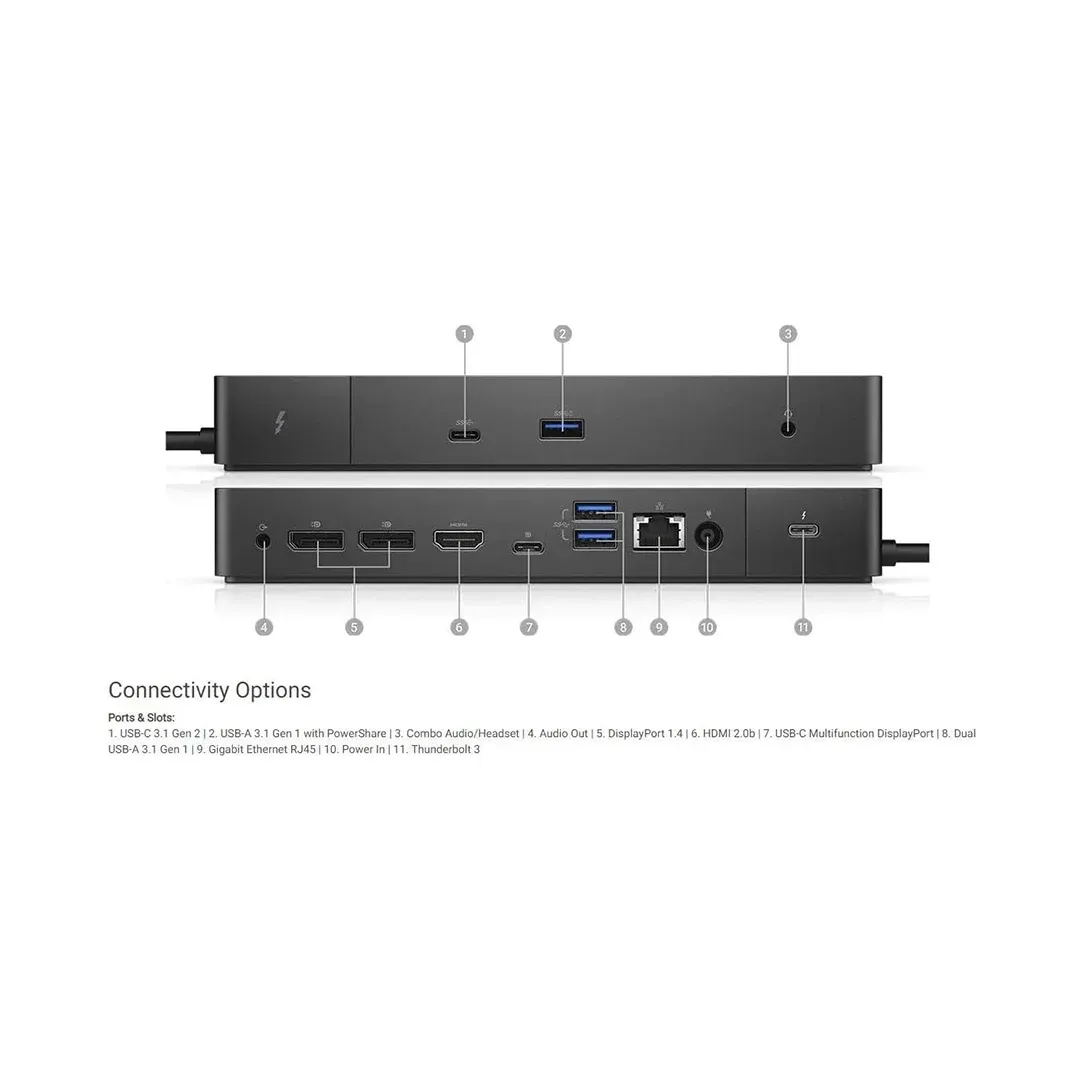 For the best experience with Precision 7530/7540 or 7730/7740, choose the Dell Performance Dock WD19DC which comes with a dual USB-C connector that provides up to 210W power delivery, so you no longer need an additional power adapter). Boost your PC's power with ExpressCharge Boost on the world's most powerful and first modular Thunderbolt dock with a future-ready design.
Shipping
We take pride in providing exceptional customer service and a punctual delivery service. All orders received same day are processed same day or next day. We deliver within 1-2 working days in all Emirates in the UAE and within 2-3 working days to the Sultanate of Oman.
We provide free shipping - United Arab Emirate (UAE)
Duration: 1-2 days
Purchases above 750.00 AED - Delivery is FREE
Purchases below 750.00 AED - Delivery is 25.00 AED
The Sultanate of Oman:
Duration: 2-3 days
100.00 AED delivery charges applies.
Once the order is dispatched, the customer will get a notification and tracking number from one of our logistics partner companies:
NB: Tracking Number(s) are only provided if delivery takes at least 8 days.
Return Policy
You have 6 days hassle free return from the date of purchase and also the below terms and condition apply.
Any item(s) purchased will not be eligible for return or exchange after 6 days from the date of purchase.
Those faulty units will be considered as a service after sales terms and we will generate a service warranty tag for the same units.
Replacement or exchange will only be applicable by the vendor policy.
Shipping charges of 50.00AED is applicable on any return units per shipment.
If the customer paid via the payment gateway (online) a charges of 2.5% on the total order is applicable.